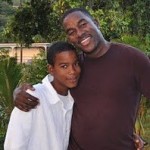 For those of you who have prayed for and donated money to help my nephew Khasim, thank you.
He has been admitted as a "charity case" with Ranken Jordan – A Pediatric Specialty Hospital in St. Louis, Missouri.
We are waiting to hear about his family's medical visa, and hopeful he will be here soon.
Thanks for all the help and I will try to be more diligent in keeping you updated.
To this point, he is still not able to use his legs but we are very hopeful.
God be praised!!!
Hudson