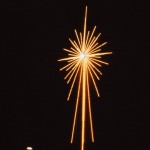 We all sat wondering why the choir had not returned from the break until the sound of their voices rose from behind the tall white walls. "Silent night. Holy night," they sang, and the thick walls swallowed the sound of the ninety-person choir. From outside we heard only their muffled whispers. "Round yon Virgin mother and child." And we all sat silent.
I wondered who had conceived that great illustration of the Silent Night. The power of the choir was not in their volume, but in their very understated position behind the wall—isolated, hidden, and yet still with us.
"Understated!" I thought, "That's what it is! Understated."
Understated describes God sending His Son to be born, not in a castle, or a mansion, not with the famous who might claim him as their own, but in some obscure town where he went unnoticed.
Understated describes God choosing a poor carpenter to act as earthly father to The Son.
Understated describes the Father choosing a confused Jewish girl to birth The Son.
Understated describes The Son born in ignoble Bethlehem, not Jerusalem.
Understated describes some smelly shepherds visiting the child.
In many ways the true historical facts cloaked the greater reality and hid it from view. It was sadly true that, "Though seeing, they [did] not see; though hearing, they [did] not hear or understand" (Matthew 13:13).
May this NEVER be said of us, as we are not restricted to just the facts of a baby born way back then. We know and have experienced more.
The Son was not born in a mansion, but there was…
an angel sent to Zechariah (Luke 1:5-23),
a prophecy given to Simeon (Luke 2:25-35),
an angel sent to Joseph (Matthew 1:18-25),
an angel sent to Mary (Luke 1:26-38),
an angelic announcement to the shepherds (Luke 2;8-20),
Magi to give him gifts (Matthew 2:1-12),
and in the sky, for all the world to see—a star.
May our hearts be moved to see beyond the baby to Immanuel, beyond Bethlehem to the very doors of Heaven. May we see more than simply a birth but also salvation for those who believe. May we see more than simply the quite understated way in which God worked and is working. May we see the grand and miraculous power He displays in small and simple ways.
"Silent night, holy night
All is calm, all is bright
Round yon Virgin Mother and Child
Holy Infant so tender and mild
Sleep in heavenly peace
Sleep in heavenly peace"
———-
The choir was the Manchester United Methodist Church choir in Manchester MO.