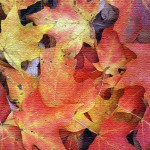 At twilight I took a walk in the cool of fall accompanied by an army of drifting leaves. We walk briskly, breeze pushing leaves, sun beckoning man. Summer had quietly folded, taking with it the warm sunny days. That evening it was waving goodbye in vibrant hues that seemed a slow embrace of the entering fall. I see all this and worship Nature's God.
Even without eyes our souls would know when summer ends.
But it is nothing short of tragic to know the seasons and not to know our God. What folly to know the changing seasons and to miss the Lord who orders them?[1] Desperately we need to KNOW GOD, and know Him in such a way that without eyes our souls sense Him.
All of nature is in tune with Nature's God. We are told that "even the stork in the sky knows her appointed seasons, and the dove, the swift and the thrush observe the time of their migration." And yet, sadly, God laments, "My people do not know the requirements of the LORD."[2]
My heart is more aware of summer's end than the ways of my God.
It is not enough to simply DO what God wants. We must strive to KNOW HIM. In KNOWING HIM we will do just what pleases Him. The goal is to be "transformed by the renewing of our minds" in such a way that we KNOW the will of God.[3]
It is a thrill to see two people so in synch they finish each other's sentences, anticipate each other's needs, and can almost always guess what the other person would say or do in any given situation.
That kind of unity is very unique, very beautiful, and rare.
Paul speaks of the longing to "be known even as we are known."[4] Every heart desires this. But even if we should find that perfect union in which we are known by another human—and loved for it—it would remain "but a poor reflection." There is a higher love and a deeper knowing.
Fall tells me that tomorrow will bring the leafless and cold days of winter. Fall tells me to treasure not only the passing warmth of summer, but also the rustling, crunching, fading but colorful, beauty all around me—because that too is of God.
Soon "[we] shall know fully, even as [we are] fully known." Then "He will wipe every tear from [our] eyes. There will be no more death or mourning or crying or pain, for the old order of things [will have] passed away."[5]
It is not only the leaves that die—we die. It is not only the fall that is passing—we are passing, graying, losing our vigor.
While I do not yet fully know HIM, He fully knows me. So then, there will always be a spring—and always a summer to follow. For "I know whom I have believed, and am convinced that he is able to guard what I have entrusted to him for that day."[6]
BONUS:
I have placed the images in the album "Fall Expressions."
If you want them all, the Zip file is at "Fall Expressions_All"
—
---
[1]
Luke 12:54
[2] Jeremiah 8:7
[3] Romans 12:2
[4] 1Corinthians 13:12
[5] Revelation 21:4
[6] 2Timothy 1:12